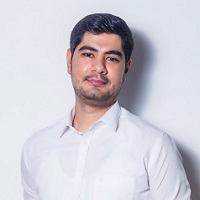 Nurmatov Azamat
Part-time PhD student (2022-2024) 


azamat.nurmatov.1990@gmail.com
Education/Academic qualification:
2010-2014 Uzbek State World Languages University, Bachelor's Degree in Foreign Philology

2016-2018 Sunderland University, Master of Business Administration in Finance and Banking

2020-2021 Westminster International University, Postgraduate Certificate in Teaching and Learning

2022-present Westminster International University, PhD Independent Researcher: Human Resource Management in Small and Medium Size Enterprises
Employment:
2014-2016 Academic English Teacher at AL under World Economy and Diplomacy

2016-2016 Academic English Teacher at AL under Westminster International University

2016-2017 Credit Department Specialist at «ASAKA» Bank

2016-2022 Founder and CEO at «Elite School Enterprise» Education center

2019-2020 Business Trainer and Consultant at «National Bank of Uzbekistan»

2017-2022 Business Lecturer at Management Development Institute of Singapore

Course Leader for Entrepreneurship Programs and Academic at «TEAM» University
Professional Development:
2020 Commonwealth Education Trust: Certificate on Foundations of Teaching for Learning: Curriculum Development

2020 HEC: Certificate for Entrepreneurship Strategy: from Ideation to Exit
Doctoral project

Improving the performance of Small to Medium sized Enterprises through efficient human resource management strategies
Economies around the world have underlined the importance of entrepreneurship and small to medium sized business in achieving economic growth and development. Small business and private entrepreneurship are important factors in economic development, employment and income. Over the past two and a half years, more than 50 presidential decrees and resolutions in the Republic of Uzbekistan have been adopted to provide comprehensive support to the industry. According to the President Shavkat Mirziyoyev, the most important way to improve living standards is to develop entrepreneurship and small business [1]. Meanwhile, human resource factor is critical in the sustainability and development of entrepreneurship and small to medium sized enterprises. However, according to Heneman, the lack of information about human resource in small to medium sized enterprises is problematic for theory, research and practice [2]. There is dearth of information about human resource management practices in small to medium sized enterprises [3]. This research will be undertaken to understand the impact of human resource management practices on the performance of small to medium sized enterprises and improvements in terms of efficient human resource management practices will be recommended thus contributing to the development of entrepreneurship, small business, economy as a whole and literature review in small and medium size businesses.


Purpose of the Research:
To understand the linkages between human resource management (HRM) practices and small to medium sized enterprises' (SMEs) performance in Tashkent city. Despite the fact that there is some research already done in large organizations, there is scarcity of research specifically in SMEs. The research findings will have a contribution to building theory in the provided area.

To investigate the current situation of HRM practices in SMEs of Tashkent. This research is important because it takes an attempt to identify HRM practices that are practically prevalent in the SMEs in Tashkent.

To identify efficient HR practices implemented in SMEs. There are several HR practices used in SMEs however this research focuses on efficient tools used in HR practices and this way contributes building theory in efficient HRM practices in SMEs.

To identify problems and challenges that entrepreneurs and managers of SME's face. This research will help to understand the nature of the problems via interviewing and interacting with entrepreneurs and managers of SME's. this way theoretical framework can be built.

To recommend improvements of the SMEs through efficient HRM practices based on research and findings collected from entrepreneurs and managers of SME's.
The main objective of the research is to improve the performance of SMEs in Tashkent through efficient HRM practices
Publications
Logistics and Economy, Issue-4: Selection and recruitment practices in Tashkent SMEs — Article, 2022
O'zbekiston olimlari va yoshlarining innovatsion ilmiy-amaliy tadqiqotlari: "Human Resource Management in small business: Employee Motivation" — Thesis, 2021
Innovation in Economy, Volume-4, Issue-8: "Innovation in Training and Development Programs of Uzbekistan Banks" — Article, 2021
International Conference on Science and Education: "Human Resource Management practices in service enterprises" — Thesis, 2021

MDIST Digest Issue-4: "Innovation in Training and Development in Uzbekistan Banks" – Abstract, 2020

MDIS website: "Learning Motivation: psychological and social roles" — Article, 2018
"O'zbekiston Ovozi" weekly magazine: "Hard work and persistence are keys to success in learning" – Article, 2016
Conference participations, scientific talks

2022 LSBU Global Partners Conference — Case of TEAM University

2022 EMI Congress — Human Resource Management Practices in SMEs of Uzbekistan

2019 ITCC Solutions, IT Recruitment in collaboration with MDIST — A conference on "Building Career in Banking and Fintech"