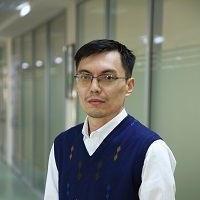 Isakov Olmas
Part-time PhD student (2022-2025) 
o.isakov@wiut.uz
Academic biography
2000-2005 University of World Economy and Diplomacy, Tashkent, Uzbekistan, Bachelor of Arts: International Economic Relations

2007-2009 Lincoln University, Oakland, California, MBA: Finance Management

2015-2017 California State University, East Bay, Hayward, California, Master of Science: Statistics
Employment 
02/2013-10/2013 Rainmaker Systems, Campbell, Ca, Finance and Compliance Intern

08/2013-05/2015 Lincoln University, Oakland, CA, Graduate Teaching Assistant

02/2017-06/2018 Robert Half International, San Francisco, CA, Consultant in Accounting and Finance

09/2018-present Westminster International University in Tashkent, Tashkent, Uzbekistan, Lecturer, Module Leader
Expertise                   
Statistics, Financial Management, Data Science, Machine Learning
Doctoral project
Improving econometric bases for credit risk management in commercial banks
The rapid growth of credit amount might expose the economy of a country to a substantial credit risk. It has been observed in both developed and developing countries that such rapid expansion of credit amount might increase the chance of loosening the income criteria for lending to the bank borrowers. Therefore, it is important that the financial institutions of Uzbekistan must adopt the latest international standards introduced by western countries such as principles put forward by Basel committee on management of credit risk and implement advanced statistical methods in mitigating them.
The current research paper analyses the performance of various machine learning methods in improving the credit risk exposure of the commercial banks and provides optimized models to predict the probability of default of the borrowers based on socio-economic factors of individuals. The consumer data from commercial banks and other financial institutions in Uzbekistan will be employed to adopt the optimal predictive models.
Publications
Anvarova, M. and Isakov, O. (2022). "Impact of government ownership on banks' profitability: Empirical evidence from commercial banks in Uzbekistan". Journal of Economics and Financial Analysis. Vol 1/6. pp. 37-53.

Inoyatova, S. and Isakov, O.K. (2022). "Job satisfaction in telecommunications industry: empirical study in Uzbekistan". International Journal of Social Economics.  https://doi.org/10.1108/IJSE-09-2021-0528.
Conference participations, scientific talks
Isakov, O. "Financial Inclusion in Central Asia". UYSAD 8th International Conference on Management and Social Sciences. November 6-8, 2021, Istanbul. Abstract Book ISBN: 978-625-00-9621-5.
Isakov, O. "Determinants of Financial Inclusion in Central Asia". International Business Conference on "Transformation and Sustainable Development of Eurasian Emerging Economies for 21st Century". Journal of Eastern European and Central Asian Research (JEECAR). December 15-16, 2020.