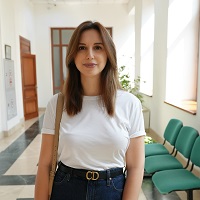 Paramonova Yuliya
Part-time PhD student (2021-2023) 
Yv.paramonova@gmail.com
Education
2019 - Current: PhD Independent Researcher scheme
Westminster International University, Tashkent (Uzbekistan)
2013-2015 Master's in International Business and Management
Westminster International University, Tashkent (Uzbekistan)
2001-2003 Associate of Arts in Political Science
Whittier College (California)
1998-2004 Bachelor's degree in International Relations
Tashkent State Institute of Oriental Studies, Tashkent (Uzbekistan)
Expertise
International Business, Managing Innovation, Entrepreneurship and Innovation, Strategic Management, Marketing strategy, Corporate social responsibility


Areas of research
Entrepreneurship and innovation, Crowdfunding, International business, Digital transformation and digitalization, Crowdsourcing technology
Doctoral project
Advances in ICT and ongoing digitalization of management processes brought a diverse range of opportunities for entrepreneurial ventures around the world. These opportunities range from optimization of new product development process to improved problem solving and value co-creation processes, and finally to the development of innovative business models enabled by digital technologies. One of the key features of this radical transformation is the redesign of relationship between organizations and various groups of customers, employees, suppliers and other members of the networked crowd. The companies are extensively leveraging creativity and expertise of both internal and external talent for their benefit via the digital crowdsourcing platforms.
In today's knowledge-based economy the use of crowdsourcing has become widespread. The converging customer needs and behaviors, the shortening product lifecycle and rapidly changing business environment have all added pressure on companies for continuous innovation. This innovation refers to improved products and services, new and improved delivery processes, as well as more efficient business models.  Many companies have come to realization they cannot have all the best people working for them and started to outsource the solution of their internal problems to external sources. These sources include customers, suppliers, distributors and the general public.
Due to the ongoing globalization and digital transformation domestic companies now face a fiercer competition from global Internet giants offering their products & services via digital channels directly to a global audience.  As Uzbekistan has recently embarked on a series of reforms aimed at building a strong digital economy with the aim to integrate into the global market it is of vital importance to look into how domestic companies could leverage opportunities offered by crowdsourcing platforms to enhance their global competitive edge. Extensive body of research works has identified entrepreneurship as one of the key drivers of sustainable development (Hall et al., 2010). Recent reforms introduced by the President of Uzbekistan Sh. Mirziyoyev aimed at creating more favorable conditions for SMEs in Uzbekistan providing various incentives and building a supportive infrastructure for small businesses. These efforts have brought a tangible result with Uzbekistan drastically improving its position in the World Bank's 'Doing Business' ranking 69 among 190 countries.
Aside from the barriers to existing companies such as lack of access to finance, inefficient mechanisms for promotion of products and services on local and international markets  there remain perceived barriers to entrepreneurship that hinder the development of new entrepreneurial ventures. As extensive strands of literature  indicate some of the main perceived barriers to entrepreneurship are of cognitive nature, i.e. lack of self-confidence, lack of expertise and prior experience as well as high perceived levels of risk associated with business activities. The purpose of this research paper is to assist to a certain extent in achieving the goals of the abovementioned Decrees and regulations by identifying how crowdsourcing platforms may help aspiring entrepreneurs to alleviate the abovementioned perceived barriers to entrepreneurship which in turn shall result in enhanced entrepreneurial venturing in our country.
Publications
'Crowdfunding for Green economy: problems and prospects' – proceeds from the XI International scientific and practical conference on Information technology and mathematical methods in economy and management' (Plekhanov University, Moscow) (02/2022)
'Entrepreneurial intention of students and moderating impact of entrepreneurial education: the case of Uzbekistan' - journal 'Society and Innovations' (12/2021)
'The role of entrepreneurship in economic development: longitudinal study in Uzbekistan' - Transnational journal of science and humanities Berlin Studies (Germany) (12/2021)
The barriers to youth entrepreneurship and a possible solution: the case of Uzbekistan – Online journal 'Science and Innovation' (2020/10)
Financing and beyond: the role of crowdfunding in fostering youth entrepreneurship – Scientific Digest, MDIST (2020/04)
Why not digital? Challenges in digital transformation and technological innovation within manufacturing sector: the case of Uzbekistan – Scientific Digest, MDIS Tashkent, Issue 2 (2019)
Innovative entrepreneurship - impact on economic development and supportive institutional factors - International Conference Proceedings on "Investments and entrepreneurship: challenges and prospects' (2019)
Banking innovations and their impact on entrepreneurship development in emerging economies - The round table proceedings on "Trends in banking innovations – 2018" with the topic 'The integration of innovative technologies and digital services into the banking sector of the Republic of Uzbekistan" (2018)